Locksmith Local Advertising / Locksmith Leads
Ad Size:
200 x 40 Pixels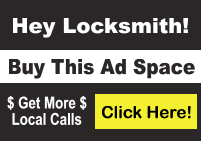 Ad Placement: Geographically Placed On Your City/State Page
Text Link Included: Yes! Text Link included for SEO benifit + banner will link to your website.
Banner will have your name and phone number on it to get direct calls from page.
We can make you a banner to match your website and business or you provide one.
Cost: $25.00 Per Month
Or $199.00 Per Year (SAVE$)
Call or Email Us To Place Ad: 540-402-1900